Established in 1997, located in Lyon, the Company Aruspice Circus intends to make"universal research on pataphysics - the imaginary, clowns and eccentricity."
 
 
The main activity of the company is to produce and distribute shows of Buno the clown.
In addition to its broadcasting business, the company runs training and awareness workshops in prisons, together with professional Clown training, the screening of documentaries, exhibitions, etc.
 
 
The company advocates a form of theatre which is committed, wacky and inclusive, suitable for all publics. This means a language that is accessible to all, no matter their origin, culture or social standing. They are eccentric performances in which laughter and derision take first place. 
His world is rooted in the circus and street arts, inspired by burlesque, to reach the magical essence, pure and eternal, of the art of clowning.
 
 
The clown exists to knock over chairs, and kick consensus in the ass.
This kick is not symbolic, this reversal is not theoretical, it is a fact. The clown is a warrior. His weapon is laughter. He does not pretend, he does not play a role, he is what he is, and that is what disturbs the mind. His actions have consequences. They are right. The laughter he provokes is not cerebral, it is visceral. This is how he joins the Prophet of viscera, the circus (circle) of Soothsayers. 
Aruspice Circus [Cie]
Archives of the past shows...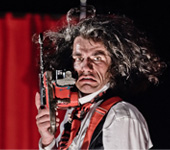 "Buno, Volare, Volare" is a surrealistic show that poetically expresses the total commitment, the perpetual quest, perseverance, failures and faith necessary to achieve "the unreachable star."


Visual burlesque show (without words)
suitable for all ages, from 8 years upwards.
Total show time: 70 minutes
Places to perform : Theatres, Tents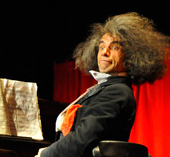 THE BUNO CIRCUS SOLO SHOW
An all-terrain event, the Solo Circus is capable of being performed anywhere, in the street, in fields, in halls or theatres.
With his Solo Circus, Buno wakes up the inner child hidden deep inside each of us.


Visual burlesque show (without words)
suitable for all ages, from 8 years upwards.
Total show time: 70 minutes
Places to perform : Theatres, Tents, Street

Megaphone in hand, mass of hair under his helmet, looking utterly loopy, Buno interacts with passers-by…


Show time : 30 mn
Place : Street